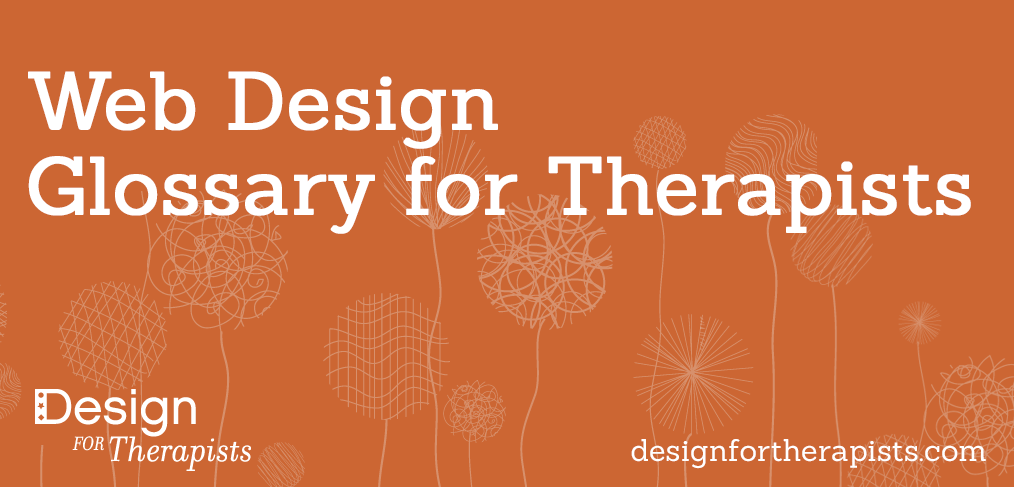 Web Design Glossary for Therapists
You've decided you need a website for your private practice but all the technical speak may seem daunting. For many therapists the elements involved in building a site can seem like a foreign language. In this web design glossary for therapists, I've defined the most relevant terms you might come across.
Domain Name: The domain name system (DNS) is a system that assigns an address to a web server. This is the name that will appear at the top of your browser window. For example: designfortherapists.com, artpsychotherapynyc.com, google.com

You can register a domain name with any number of places (Bluehost.com, GoDaddy.com, etc.) A domain name works in conjunction with a hosting service. The domain tells someone where your site is located and the host is the actual space where your site will live.
Tip: If you are in the process of choosing a domain name for your practice, try to pick something that has relevant keywords for your business. It will help with search engine optimization since someone is likely to search for "therapist in Brooklyn" versus your name. Therefore, a domain of brooklynheightspsychotherapy.com will be more effective than heathersmith.com. 
Web Hosting: This is where your site files will reside so that they can be accessed on the internet. Most web hosting can be acquired inexpensively for about $4-$10 per month. Usually it's easiest to have your domain and hosting service handled by the same provider, but this isn't required. You can register a domain with one company and have a hosting service with another.
WordPress: WordPress is a website creation software and content management system (CMS) that is completely free and can be customized to create a wide variety of websites. Design for Therapists uses WordPress to create it's therapist websites as it is easily customizable and offers a solid foundation to grow and evolve your site. Once the site is built, WordPress is fairly user friendly so that someone without a technical background can probably make simple text and content changes.
Plugin: A plugin is a piece of software that can give additional functionality to your WordPress site. For example if you want to incorporate social media sharing functionality, an events calendar, Instagram or Twitter feeds on your site, this could be achieved by adding plugins. There are thousands of plugins available with WordPress so you can imagine the possibilities.
Responsive Web Design (RWD): RWD is an approach to web design aimed at creating sites that provide an optimal viewing experience across a wide range of devices (from desktop computer monitors to mobile phones.) All Design for Therapists sites are designed to be responsive.
Search engine optimization (SEO): SEO is the process of affecting the visibility of a website in a search engine's unpaid results. These results are often referred to as organic results, as opposed to paid results which come from paid advertising with tools like Google Adwords. There are many factors that affect SEO (these will be addressed in another article.) Search engine algorithms are constantly changing so keeping up with search engine optimization on a website is an ongoing process.
Copy: This is the text that goes on your site and is the content of your pages. Most designers don't write copy. Web designers are generally trained to create a graphic visual representation and user experience for your site while a copywriter would be the person to hire if you want someone to write the actual text for your site.