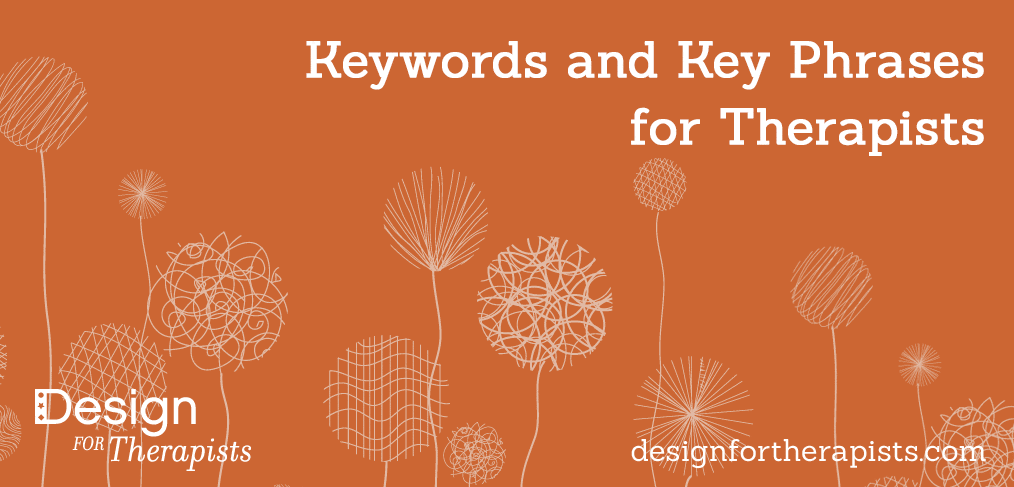 Keywords and Key Phrases for Therapists
Searching online for products and services has become a daily activity for most of us. We all use search engines to find the information we need before deciding to take an action. Your clients are doing the same thing when they start looking for a therapist. Once you start understanding how search engines work, search marketing can be a valuable tool to use to get exposure for your practice.
Search marketing can be overwhelming, so I will try to explain some concepts in a series of posts, starting with this one about key words and key phrases.
A keyword/key phrase is the word that a user enters into a search engine to find something. There are three main categories of key phrases that are useful to know in terms of how users search the internet. Understanding the differences can help you determine how to shape your web content.
Transactional Key Phrases
With transactional key phrases, the searcher intends to purchase a service as soon as possible. The intent of this type of search is to obtain a product or service. If your site is optimized for this type of key phrase, you are likely to get people reaching out and making inquires.
Therapist for depression in Brooklyn
Counsleling for trauma nyc
EMDR therapist San Diego
Informational Key Phrases
With an informational key phrase, the searcher is doing research on options and gathering information for the future. The intent is to gather information on a topic to address the informational need for the searcher. If you have a blog, this is a way to offer information to people and to drive traffic to your site. You may not get clients directly from this type of search, but it will help your site rise higher in the search engine ranks.
PTSD symptoms
Do I need a therapist?
How to know if you are addicted to drugs
Navigational Key Phrases
The searcher includes the actual brand or name of what they are searching for. The intent is to locate a particular website. So if someone is looking to find out information about you, or was given your name as a referral and someone types it into Google, a user should get directly to your site.
Sue Jones, LCSW Soho
Sue Jones therapist New York
Sue Jones psychotherapy